When buying maternity clothes, you should not forget to shop for pregnancy leggings! Read on to learn how to pick the best maternity leggings to stay comfortable and stylish throughout your pregnancy.
You're pregnant and expecting a new addition to your family–congrats! Now, you're probably wondering where and how to start building your maternity wardrobe. The answers? By stocking up on some comfy maternity pants!
(Shop: Mama's Choice Activewear Maternity Leggings on Shopee for only ₱489)
Somewhere along the magical nine months of your pregnancy, owning a pair of maternity leggings becomes a necessity. As your baby bump grows, this pair of stretchy pants got you covered for much-needed comfort.
As Women'sHealth writer Noemie Gokhol notes, "Whether you're experiencing swelling, back pain, or just general stiffness, my mommy friends suggest that it's a must to invest in a pair (or several pairs!) of quality maternity leggings."
But getting a hold of a good pair of leggings is no easy task, Mama! Some are too thin (almost see-through) or too thick (that can be itchy and make you hot). Then there's the issue of finding one that has quality fabric. When looking for maternity leggings, make sure that it gives you that extra space and support for your growing baby without feeling too tight or loose.
Read on to know the list of things to check before buying a pair to make sure you get the best bang for your buck!
Best Maternity Leggings: 5 Things To Look For
1. Has good coverage.
Maternity leggings are there to give ample support and coverage to every Mama's growing bump. Unfortunately, not all pregnancy leggings available in the market meet this criterion. But what others lack, Mama's Choice makes up for. Mama's Choice Activewear Maternity Leggings has a unique waistband that can be adjusted to fit your size and compliments your level of comfortability—whether you want it a bit tight or loose.
The best thing is that the waistband also acts as a support that helps in reducing back and pelvic pain during pregnancy.
2. No rolling down or riding up.
Keeping your leggings in place is a common issue even with regular ones, but this can be a cause of serious inconvenience for expecting moms. Good thing you can trust Mama's Choice Activewear Maternity Leggings' flexibility, so you don't have to worry about it rolling down or riding up. Whether you're sitting down, standing up, or out and about for some walk and socializing, these leggings will keep you comfortable throughout your day.
3. Quality material
Maternity leggings you can buy from Mama's Choice are guaranteed to be made of high-quality materials. It's made of extra soft and breathable fabric that can absorb sweat.
Another good thing is that these leggings are made to last. It doesn't quickly lose its stretchability, so you can still wear it long after sporting a baby bump. Talk about getting the value of your money!
Did we mention you can get Mama's Choice Activewear Maternity Leggings for only Php 489 when you shop now on Lazada or Shopee .
4. Thick but not too thin
Made out of 60% high-quality cotton and 40% polyester Mama's Choice Activewear Maternity Leggings afford you that perfect midway of the thickness spectrum! No more dealing with see-through leggings or thick, itchy ones!
5. Just the right length
Diversity in clothing has always been an issue, not just with leggings. Some maternity leggings can be too short or too long for some, depending on your height. It's recommended to opt for shops that have free size options like Mama's Choice.
How to look stylish in maternity leggings
Yes, you read that right. With suitable maternity leggings, you'll be ready to flaunt your baby bump.
Here are some tips on how to dress with your Mama's Choice for every occasion:
1. Lounge/casual wear
Throw on some regular t-shirt with Mama's Choice leggings and look effortlessly chic while lounging at home. You can also throw in a jacket or cardigan on top, and you're already well-dressed when running errands to the grocery store or having a quick meet-up with a friend.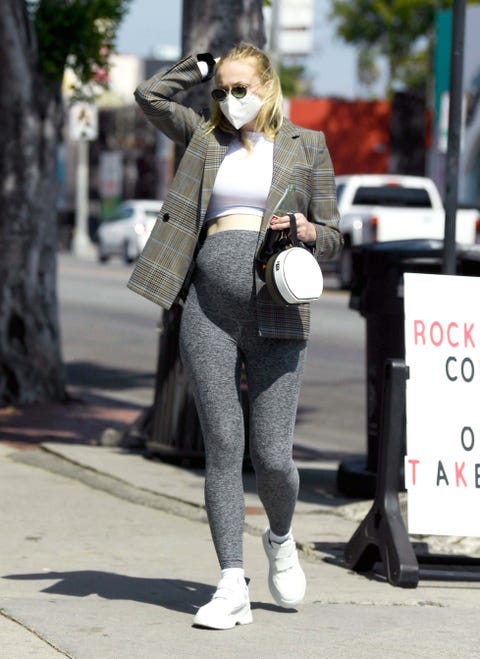 (Shop: Mama's Choice Activewear Maternity Leggings on Shopee for only ₱489)
2. When in doubt, layer up.
Wear your leggings with a fit or body-hugging top before getting into a kimono or a longer cardigan. A fancy shawl can work too! Pair it with flats, doll shoes, or heels, depending on the mood of the place you're heading to.
3. Dress to impress.
I say yes to dress!
As much as Mama's Choice Activewear Maternity Leggings are practical, they are also fashionable enough to compliment your cute dresses from your pre-pregnancy wardrobe that may be shorter now because of your baby bump. Slip on some boots or some sneakers (trust me, it'll work!) Whatever style you'll go for, your comfort should remain a priority at the end of the day. And if we're talking about comfort, you don't have to look any further because Mama's Choice has got you covered with its Activewear Maternity Leggings .
Read more: 
Maternity Clothes Guide: 10 Tips for a Stylish Pregnancy
Mama's Choice Team
The Mama's Choice PH team is composed of three Mamas who are dedicated to spoiling their little ones with lots of cuddles, playtime and the occasional sweets, of course. <3